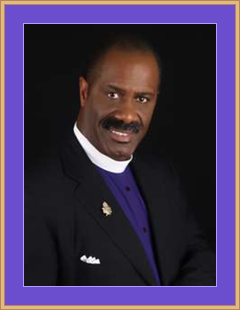 GREGORY G. M. INGRAM was appointed presiding prelate of the First Episcopal District of the African Methodist Episcopal Church on July 4, 2012, during the 49th Quadrennial Session of the denomination's General Conference, held in Nashville, Tenn. At the 2008 General Conference, Bishop Ingram was elected to chair the General Conference Commission, which oversaw planning and organization for the 49th Quadrennial Session. In his new assignment, he will preside over seven annual conferences comprising Delaware, New England, New Jersey, New York, Pennsylvania and the British Overseas Territory of Bermuda.
In the year, 2000, Bishop Ingram was elected and consecrated as the 118th Bishop of the African Methodist Episcopal Church. His first appointment as a Bishop was to the Fifteenth Episcopal District, comprising Angola, Namibia and most of South Africa.
Prior to his current assignment, Bishop Ingram served as President of the
Council of Bishops
and in his second assignment as bishop, served as the Presiding Prelate of the Tenth Episcopal District
(TEXAS)
. Under his anointed leadership Bishop Ingram introduced the District to the
Ten-Point Partnership Plan
, a strategy for improving every aspect of life for the people of the Tenth Episcopal District through:
1.
Church Growth and Evangelism
2.
Economic Development
3.
Education
4.
Health and Human Services
5.
Management, Marketing & Administration

6.
Missions
7.
Political Empowerment
8.
Resource Inventory Bank (R.I.B.)
9.
Spiritual Entrepreneurship
10.
Stewardship
Before his election to the Episcopacy, Bishop Ingram served for thirteen years as the Senior Minister of
Oak Grove AME Church
in Detroit, Michigan. Under his leadership, 2,400 members joined
Oak Grove
and more than 1,420 became tithers. Prior to his
Oak Grove
assignment, Bishop Ingram served as pastor of AME churches in Chicago, Springfield and Alton, Illinois. He also served two years on the religious staff at
Southern Illinois University
, Edwardsville Campus.
Bishop Ingram has distinguished himself throughout African Methodism for his
expertise in stewardship and tithing
and is a dynamic preacher and lecturer who is sought after to speak at churches, colleges, universities and civic functions.
He has authored a number of publications that are heralded throughout African Methodism. Included among them are:
| | |
| --- | --- |
| | |
| - | Equipping The Saints For Service |
| - | The Spiritual Aptitude Test (S.A.T.) |
| - | Manual For African Methodism: A Textbook For Teaching New Members And Nurturing Others In The Church |
| - | The African Methodist Episcopal Church Pastor's Journal And Quarterly Conference Record Book. |
His civic, community, professional and social affiliations, past and present, include the:
| | |
| --- | --- |
| | |
| - | Ecumenical Center for Stewardship Studies in North America (EXECUTIVE BOARD MEMBER) |
| - | Christian Communication Council (BOARD MEMBER) |
| - | Community Foundation for Southeastern Michigan (ADVISORY BOARD MEMBER) |
| - | National Association for the Advancement of Colored People (LIFE MEMBER). |
Bishop Ingram holds a
Bachelor of Arts
degree from
Wilberforce University
, a
Master of Arts
degree in Teaching from
Antioch College
, a
Master of Divinity
degree from
Garrett Evangelical Theological Seminary
and a
Doctor of Ministry
degree from
United Theological Seminary
.
He is a member of
Kappa Alpha Psi
Fraternity and is a Thirty-Third Degree Mason,
Prince Hall Affiliation
.
Bishop Ingram is married to The Reverend Dr. Jessica Kendall Ingram, who is his devoted partner in ministry. They are the proud parents of one adult daughter, Jennifer Eman Keanne, and the grandparents of one treasured granddaughter, Jayda Eman Keanne.