Our Founder - Richard Allen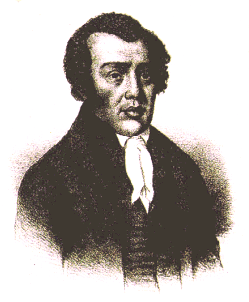 Born a slave on February 14, 1760 in Philadelphia, Pennsylvania, Richard Allen grew up during the American Revolution, an era characterized by the advocacy of individual rights, the growth of denominational Christianity, and the inception of the antislavery movement. Around 1768, Allen's owner, a Philadelphia lawyer named Benjamin Chew, sold him, his three siblings, and his parents to Stokely Sturgis, a plantation owner in Delaware. With the permission of Sturgis, Allen began to attend Methodist meetings, and around 1777 he was converted to Methodism.
In the second half of the eighteenth century, Methodism proliferated in Delaware, Pennsylvania, and Maryland. This Christian denomination emphasized a simple set of virtues that included honesty, modesty, and sobriety. Following his conversion, in 1780 Sturgis agreed to let Allen hire himself out in order to earn money to purchase his freedom for $2000. In addition to doing manual labor, Allen began to preach at Methodist churches in Delaware and neighboring states. In 1786, Allen paid his last installment to Sturgis and became free.
That same year, Allen accepted an invitation to preach at St. George's Church in Philadelphia, a mixed-race congregation of Methodists. Within a short time, Allen dramatically increased St. George's black membership, and the building could no longer accommodate the growing congregation. White elders at St. George rejected Allen's request for a separate place of worship for African American members and chose instead to construct separated seating within the church by installing a balcony. In 1787, discouraged by the fact that the black worshippers who had helped construct the balcony would be relegated to sitting there, Allen joined the Rev. Absalom Jones to found the Free African Society, a nondenominational religious association and mutual aid organization. Allen's Methodist fervor, however, drove him to leave the Free African Society after two years because of the organization's nondenominational orientation. Allen's commitment to Methodism also compelled him to stay at St. George's despite the segregated seating arrangement.
One Sunday morning in 1792, Jones challenged St. George's segregated seating arrangement by sitting downstairs. In the middle of the opening prayer two white trustees forced Jones to leave. Allen and other black members who had been seated in the balcony then walked out of St. George's. Until this incident, few black Methodists had been receptive to Allen's call for the establishment of an independent black church. On August 12, 1794, members of the Free African Society founded The African Church of Philadelphia. Because of the Methodists' discriminatory treatment of blacks, the church was consecrated as part of the Protestant Episcopal Church and Jones became the denomination's first black priest.
Allen, however, remained faithful to Methodism and used his own savings to buy a former blacksmith's shop and transplant it onto a plot of land he had previously purchased in Philadelphia. After renovations, Bethel African Church opened on April 9, 1794, and Allen was ordained its deacon. After Bethel was officially initiated at the 1796 Methodist conference, white Methodist officials attempted to gain control over Allen's church, but a Pennsylvania Supreme court ruling in 1807 declared that the black Methodist congregation owned the property on which they worshipped and that they could determine who would preach there.
Following Allen's example, many black Methodists formed African Methodist Churches in northeastern cities. Because all experienced similar challenges from white Methodists, Allen organized a convention of black Methodists in 1816 to address their shared problems. The leaders decided to unite their churches under the name of the
African Methodist Episcopal (AME) Church
. Accordingly, they gained control over the governance of their churches and placed themselves beyond white ecclesiastical jurisdiction. Attendants elected Allen bishop of the new denomination, a position he held until his death in 1831.
The AME Church immediately became a center of black institutional life. As its leader, Allen created the
Bethel Benevolent Society
and the
African Society for the Education of Youth
. He also published articles in
Freedom's Journal
attacking slavery and organizations such as the
American Colonization Society
. Because Allen believed enslaved and free black Americans could be best served through education and religious instruction, he opposed organizations that advocated the migration of black Americans to Africa.
Although the AME Church initiated missionary efforts in such countries as Haiti and Canada during the late 1820s, Allen kept the church focused on elevating black Americans, especially those in the South. As he said, "We will never separate ourselves voluntarily from the slave population in this country; they are our brethren and we feel there is more virtue in suffering privations with them than fancied advantage for a season." The AME Church proliferated in the South after the Civil War and today has a membership of more than 1.2 million.